Dear Friends,
I have been teaching the method of Alla Alicja Chrzanowska – Psychological Tarot Profile – for about 10 years with the permission of the Author. In russian, of course. There are now a lot of specialists working with the method in russian language. Moreover, 6 of my students have now rights to teach the method too, and that is my proud, of course))
For many years I have been thinking about teaching Psychological Tarot Profile in English and maybe French.  Too much time has passed since I graduated from Minsk Linguistic University… Finally I feel it's time).
So if you are interested, subscribe for the basic course "Psychological Portrait Method Basics" that would be in July, 2020.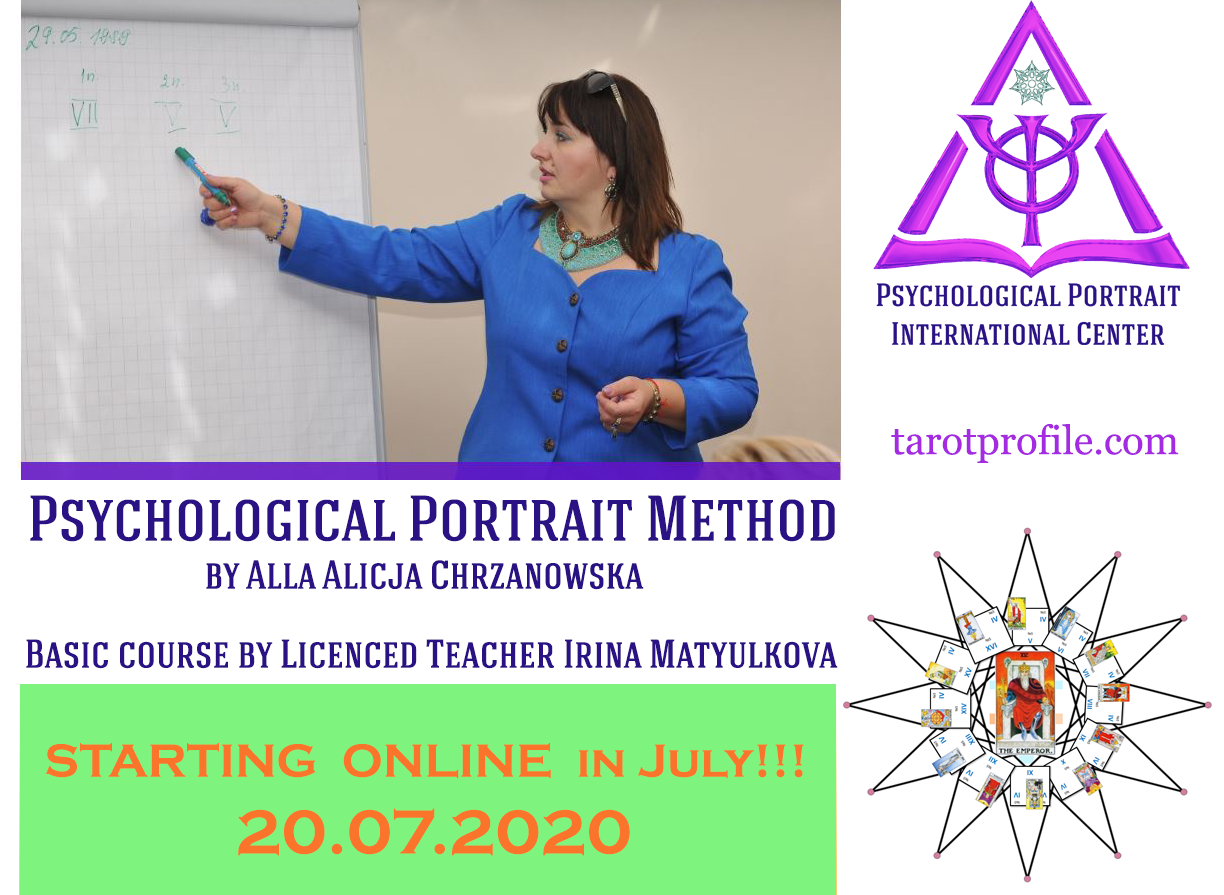 Beginning Course of Psychological Portrait Method by Alla Alicja Chrzanowska.
This method uses a combination of numerology and archetypes of major arcana Tarot cards.
What will be covered in the course:
Rules of working with Psychological Portrait
Differences between traditional Tarot meaning of the cards and Psychological Portrait's meaning
Major Arcana Tarot
Meaning of positions in Psychological Portrait
Meaning of cards in each position
Cards in upright and in reverse
Double and triple cards
Masculine, feminine, and neutral cards
Active and passive cards
Interpretation of cards in connection to other cards
Practice of working with examples of Psychological Portrait
After the completion of this course, you will be able tell a person about:
the main energies that are influencing their childhood, the midlife, and the 3d part of their life
their talents, skills, and abilities
their challenges, areas of growth, and the ways of working with them
their life purpose, their main lesson in life and the ways of accomplishing it
their comfort zone, areas in which a person feels very comfortable
and the things that are very important to a person in their life
The course starts on July 20th. It will be taught online by licensed teacher Irina Matyulkova.

Link will be working soon…
2 Course.   – Profession. You will find out you vocation according to your talents and propensities. In this course we deal also with Portrait with Minors and choose the perfect dates for special things. Work Programs and Career Programs.
3 Course –  Partnership.  This method allow to understand how relationships of different kind would be developed. Relationship programs and Sexual programs as well as Energetic programs.
4 Course – Karma and Shadow.
A lot of work  and a lot of knowledge indeed!